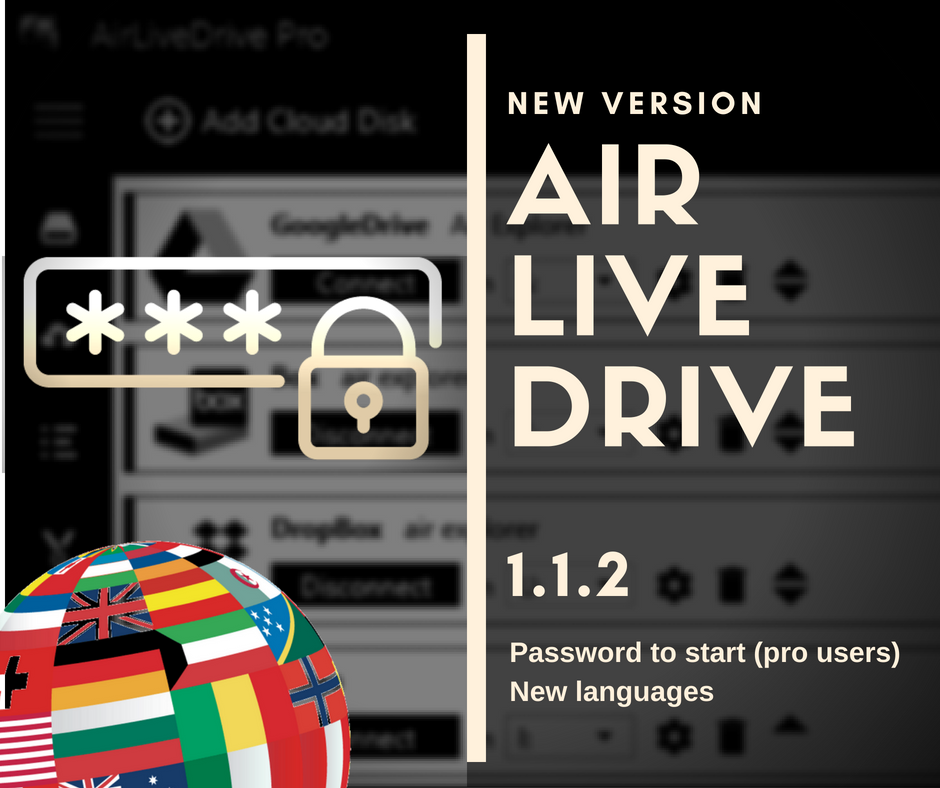 With Air Live Drive you can mount your clouds as local disks on your computer.
Air Live Drive supports the most important storage sites like OneDrive, OneDrive for Business, Google Drive, Box, Mega, Dropbox, Yandex, Baidu, Naver, Hidrive, pCloud, Mail.com, Mail.ru, Adrive, Magenta, Stack Storage and Datto Drive. But it also works with WebDav, FTP and SFTP.
Now, you have a new version.
List of changes:
-Improved stability.
-New option to request a password to start Air Live Drive (pro users).
-Added Ukranian language (thanks to Андрей).
-Added Chinese Simplified (PRC) language (thanks to Jason).
-Added Russian translation (thanks to Aquarius™).
-Added German translation (thanks to mathplatz).
-Added Turkish translation (thanks to SALiH DRD).
-Added Chinese traditional (thanks to 雪杯尾狼).
-Added Korean transkation (thanks to Kyung-Sin).
-Added Malay translation (thanks to Molokal)
-Added Hungarian translation (thanks to Zityi http://szoftverforditasok.hu/ ).
-Added Finnish translation (thanks to Toni).
-Added Chinese (Zh-CN) (thanks to Liang).
-Added Thai language (thanks to Yutthaphon).
-Added French translation (thanks to Largo).