Download from Mega (mega.co.nz) to your Smartphone or Tablet fast and easily with Mega Advanced Downloader. It's very easy to use, click on any Mega link on your browser and the app will handle the download. You can also paste on the application any text containing Mega links and all the links will be downloaded.
You can download this app free from Google Play.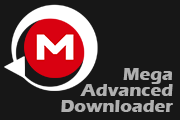 Some features of Mega Advanced Downloader:
– Pause and resume Mega downloads.
– The application can be configured to download only via WIFI (by default).
– It supports multiple simultaneous file downloads.
– The file is divided in several segments to download it faster.
– You can select the destination folder in the configuration; you can specify even an external SD card if you want.
– If a download fails it will retry it automatically.
– Displays downloads progress and speed.
– Mega Advanced Downloader has a very friendly interface.