Air Explorer
is an application that manages easily all your cloud servers (Google Drive, OneDrive, Dropbox, Mega, Box, Mediafire, WebDAV, Copy, Yandex,…). Now, Air Explorer support yun.baidu.com, a chinesse cloud server that offers 2TB of free storage.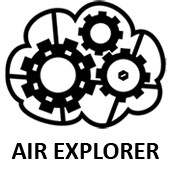 We fixed errors and added new sites following your suggestions in the new version.
This is the list of changes:
-Added cloud client for yun.baidu.com cloud storage.
-Fixed error in the synchronization window.
-Added japanese translation (thanks to Tilt).
-Fixed error login in Mega with some passwords.